Support UCSF Craniofacial
What Your Gift Means to the UCSF Craniofacial Center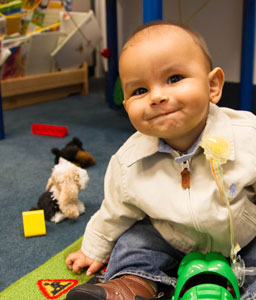 Our group of experts in the Craniofacial Center specializes in the care of children with congenital and acquired deformities of the head and face, including cleft lip and palate, craniosynostosis and traumatic facial injuries.
Our goal is to deliver the best possible service to children of California, the nation and beyond. In addition to offering state-of-the-art surgical procedures, our team is collaborating on a constant flow of new ideas, research and translational endeavors. We believe that this will help us reach our goal of providing state-of-the-art care while pioneering better treatments for children and families affected by craniofacial disorders.
Please consider making a donation to support this important work. Any amount given is valuable, and donations are tax-deductible.
Many Ways to Contribute
Patient Care: We remain committed to providing care to any child with a cleft or other craniofacial condition, regardless of their financial background. Your support of our patient care fund allows us to accomplish this.
Research: Gifts to research provide our faculty with the funds needed to pursue their important investigations, support their laboratories and purchase equipment and supplies. Amid drastic cutbacks in funding from the NIH, personal philanthropy is more important now than ever before. Private philanthropy is essential- it is the catalyst for success as our physicians tirelessly investigate new, more effective treatments for our patients.
Faculty Recruitment/Retention: Endowments supporting faculty relieve them of the continual and distracting burden of applying for funding. Faculty endowments are powerful recruiting tools for attracting and retaining the most talented and sought-after physicians, scientists and teachers.
Unrestricted Gifts: Other gifts include unrestricted funds to support priorities such as faculty initiatives, capital projects and educational support, just to name a few.
For further information about giving options, please contact: 
Lynnette Teti
Senior Director of Development, School of Dentistry
220 Montgomery Street, 5th Floor
San Francisco, CA 94104
415.971.2871
[email protected]