The Craniofacial Center is the nexus of training for future craniofacial clinicians at UCSF, and it integrates training in the Schools of Dentistry and Medicine.
The Division of Craniofacial Anomalies offers the following courses and programs through the School of Dentistry: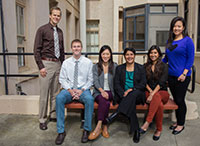 Craniofacial Clinic Rotation (CA419) for orthodontic and pediatric dentistry residents and dental students: This rotation involves a demonstration of various types of craniofacial anomalies, assessment of growth and development of abnormal and normal craniofacial structures, diagnosis and evaluation of the more common anomalies and associated impaired functions and therapeutic needs of the individual patient.
Etiology, Growth Characteristics and Management of Cleft Lip (CA 206) and of Craniofacial Anomalies (CA 207): The etiological factors of cleft lip and palate and craniofacial anomalies are discussed as well as the effect of various treatment approaches.
Craniofacial Orthodontic and Special Needs Fellowship: Candidates for this 1-year fellowship program must have graduated from an ADA accredited dental school and orthodontic residency program. This program provides advanced training and skills for the orthodontic management of patients with craniofacial anomalies, including cleft lip and palate, craniosynostosis and other craniofacial anomalies will be treated in an interdisciplinary setting. The fellow is also expected to complete a clinical research project. Please follow link for program overview;
       https://dentistry.ucsf.edu/programs/craniofacial-orthodontics/admissions  
The Division of Plastic Surgery in the School of Medicine provides training in cleft and craniofacial care. Surgical interns rotating on the plastic surgery service are introduced to the perioperative management of cleft and craniofacial surgery patients.  For plastic surgery residents, cleft and craniofacial surgery is a core component of the residency program.  Residents attend craniofacial clinic during postgraduate years 4-6 and become familiar with the diagnosis and management of the breadth of craniofacial conditions in the setting of comprehensive team care.  Didactic teaching of cleft and craniofacial surgical care in the form of faculty lectures occurs as part of the regular weekly plastic surgery lecture series.  Residents develop competency in cleft and craniofacial surgery by assisting on all surgical cases, readily meeting and exceeding ACGME case requirements. Craniofacial fellowship training is not offered at UCSF, providing maximal exposure and case participation for plastic surgery residents. Medical students rotating on the plastic surgery service observe in the craniofacial clinic and follow patients in the operating room and during recovery on the ward.
The Division of Genetics in the School of Medicine provides training for residents in genetics and pediatrics, as well as medical students, in the diagnosis and management of syndromes affecting the craniofacial complex.